Employment

FULL-TIME EMPLOYMENT
We currently are not looking to fill any full time positions.

SEASONAL EMPLOYMENT

The Akron Racers offer seasonal employment that generally involve managing specific areas of operation. These individuals are often paid an hourly wage that reflect their unique responsibilities in the areas of merchandise sales and/or concession sales. Typically, these positions require a commitment from April-September. Scheduling is based on the events planned throughout the week and will include both day and evening hours.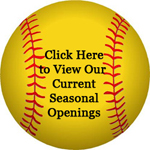 To inquire about seasonal employment, contact Kathy Hale at 330.376.8188.