Roster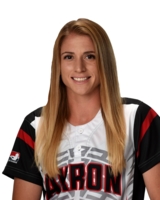 Active
Rachele Fico
#37
Position: P
Date of Birth: 06/17/1991
Height: 0' 0" Weight: 0 lbs
Pro Experience: Akron Racers (2013-2017)
Bats: R
Throws: R
Birthplace: Oxford, Connecticut
Biography:
TRANSACTION HISTORY:
Drafted by the Akron Racers with the first overall selection in the 2013 Draft.

Fico re-signs with the Racers for the 2014 season on 2/4/14.

Fico re-signs with the Racers on 6/26/15.

Akron re-signs Fico through the 2017 season on 6/24/16.
2017 SEASON (AKRON RACERS):
Recorded the lowest ERA of her career at 3.22.

Tied for the team lead with 5 victories.

Made 17 appearances and 10 starts, with 3 complete games and 2 shutouts.

Threw 58.2 innings, allowing 55 hits and 17 walks with 53 strikeouts.

Earned the win in Akron's playoff-clinching victory on 8/12/17, with 3 innings of relief.
2016 SEASON (AKRON RACERS):
13 appearances, with 8 starts, 47.0 innings, 31 strikeouts, 2 CG and 2 saves.

Tied for the team lead with 2 saves and finished third with 2 complete games.
2015 SEASON (AKRON RACERS):
Pitched 40.2 innings over 11 games, including 3 complete games over 7 starts.
2014 SEASON (AKRON RACERS):
All-NPF Pitcher selection

Appeared in an NPF-high 23 games and threw a league best 105.1 innings.

Achieved team-highs with 11 wins, 6 complete games and 55 strikeouts.

Fico made 12 appearances and 9 starts at home and went undefeated with a 10-0 record, throwing 59.2 innings, allowing 56 hits, 21 walks and 16 earned runs, with 37 strikeouts.
2013 SEASON (AKRON RACERS):
Fico appeared in an NPF best 23 games as a rookie in 2013.

Threw a team-high 74.2 innings.

Recorded 5 complete games and a 5.06 ERA her rookie season.

Made her NPF debut on June 5, 2013 in a relief appearance.

Her first NPF start was also her first win and complete game, allowing 2 runs on 6 hits with 3 strikeouts.
COLLEGIATE HIGHLIGHTS (LOUISIANA STATE):
2x NFCA 1st Team All-American

2x USA Softball Player of the Year Top 25 finalist

4x NCAA All-Regional Team

3x All-SEC 2nd Team

2013 Senior CLASS Award Top 10 Finalist

2010 SEC Co-Freshman of the Year
PERSONAL:
Daughter of Ralph and Lee Fico, born on 6/17/91.

Bachelor's Degree in Sports Administration with a Commerce concentration.

Assistant coach at the University of Georgia.
Career Statistics »
| Year | League | Club | W | L | GP | ERA | R | H | BB | SO | SV | ER |
| --- | --- | --- | --- | --- | --- | --- | --- | --- | --- | --- | --- | --- |
| 2017 | NPF | Racers | 5 | 4 | 17 | 3.22 | 30 | 55 | 17 | 53 | 1 | 27 |
| 2016 | NPF | Racers | 1 | 6 | 13 | 4.47 | 33 | 56 | 18 | 31 | 2 | 30 |
| 2015 | NPF | Racers | 3 | 5 | 11 | 4.99 | 32 | 50 | 13 | 13 | 0 | 29 |
| 2014 | NPF | Racers | 11 | 7 | 23 | 3.59 | 75 | 131 | 45 | 55 | 0 | 54 |
| 2013 | NPF | Racers | 6 | 7 | 23 | 5.06 | 64 | 91 | 37 | 37 | 0 | 54 |